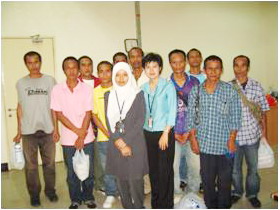 Office workers in Malaysia. Assisting Thai workers who travel to work building public interface of the mold Wank Malaysia 11 people to Thailand on August 12, 2552. 
         11 Thai workers who have domicile in Chaiyaphum Province. Khon Kaen and Mukdahan. Getting to work with the solicitation of illegal employment brokers. Without work permits. Work only 3 months would not work. And not paid. Employers can not escape to the track. (Workers only know the name and phone number of employers only); Office workers in Malaysia has coordination offices to check people. Sarawank the city to return to Thailand. Because all workers have no work permit and residence time on. Immigration Act of Sarawank for 4 months is the wrong base fine amount Ring Circuit per 1,000 people (about 10,000 baht) or imprisonment not exceeding 1 year, Snr. Malaysia coordinated bargaining down to fine each. 700 Ring Circuit and coordinate the release on the workers return home on 12 and 18 August 2552. 
         From the case. Workers go to Malaysia than in 1 month working without work permits. When problems can not be de. ิ exit from a state Sarawank. Malaysia and Thailand. Because the base offense in Malaysia more than a set time 1-year jail imprisonment or a fine 1000 Ring Circuit or both the fine memory. And travel by plane must return to the city of Baton State Sarah Guo Temper La Force aircraft to return to Thailand one another. A case to go easy. But departing difficult to persuade people, so if you go to work abroad. We make sure information about careers Province domicile. And contracts to qualified workers from offices in Malaysia Open. C. ย before every time. To prevent deception from the source. 
Source: Snr. Malaysia.